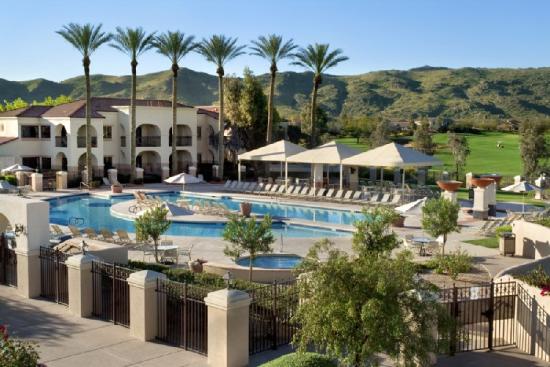 Arizona Spring Training Condo Vacation Rentals: Cactus League Baseball Condos, No Bull
Going to Arizona on holiday in March or perhaps for summer school vacation to the Grand Canyon?  Arizona Spring Training Condo Vacation Rentals specializes in resort lodging condo vacation rental accommodations all over Arizona, with a focus on Phoenix and Scottsdale for the Arabian Horse Show and baseball spring training. Most of our condo vacation rentals are affiliated with Sheraton Starwood, Vacation Village, Wyndham, or Worldmark – all of them among the finest resorts.
If you need condo vacation rentals elsewhere in the US, please visit our affiliate websites:
We offer condo vacation rentals in studio, one, two, and three bedroom fully furnished units, most with full kitchens, and accommodating from 2 to 8 people. We focus on the most desirable vacation times (you may know them as "Red Weeks"), which include:
Christmas, New Years and winter ski season in the mountains, and
March spring training Grapefruit League baseball in Florida and Cactus League in Phoenix and Scottsdale, Arizona, and
Summer beach weeks all up-and-down the Atlantic Coast, and
Special event weeks, such as Daytona Bike Week, and
Condo vacation rentals almost anywhere you want to go (we have "friends in the business")
Available condo vacation rentals are sorted by State and Resort Name–please look to the left and click on the menu button corresponding to your State and Resort of interest.
Or, if you don't see what you want in the menu, we have access to thousands of condo vacation rental resort weeks worldwide. For access to the current availability, try out our Vacationator Search Tool.
We make it easy and convenient to pay online for your condo vacation rental. With your PayPal account or most any credit or debit card, simply select your condo vacation rental, add the resort and week to your cart, and follow the instructions. It's secure and fast.
If you don't have, or would prefer not to use your credit or debit card, we also offer secure online payments using Chase Bank's Person-to-Person QuickPay. Chase Person-to-Person QuickPay is a free online service that enables virtually anyone with an e-mail address and any valid U.S. bank account to pay us for their condo rental. Please let us know if you would like to try QuickPay.  We can also facilitate payments through Wells Fargo and American Express Serve.
Or, if you wish to have the added security of a rental agreement and an escrow process, we accept payments through Deposit Guard.  Fees for this service range from 2 to 3% and are paid by the renter.  Please let us know if you would like to use Deposit Guard.
All confirmed reservations are non-cancellable, non-changeable, and non-refundable.  To safeguard your vacation, please consider buying the optional "Oh No, I Can't Go"  trip protection.  $150 protects your week — allowing you to cancel for any reason, as few as 4 days before check-in (note: the cancellation deadline varies by resort and may be longer than 4 days).  Buy the waiver for $150, cancel before the deadline, and you'll get 100% of your rental payment back.  Ask for details.
If you dare, check out our specials!
Please review our FAQs for answers about us, how we get our timeshare condo vacation rentals, a primer on setting realistic expectations for your timeshare condo vacation rental, our pricing and cancellation policies, and our disclaimer.
Arizona Spring Training Condo Vacation Rentals Accommodates Your Spring Training …and now, a savings-filled newsletter!
You want "The 411″ on USA timeshare condo vacation rentals, without the hassle of rummaging through those unwieldy corporate websites. Subscribe to our newsletter now and get free food*!  We are happy to help.
Arizona Spring Training Condo Vacation Rentals publishes an occasional newsletter. In each newsletter, we'll let you know about our new condo vacation rentals inventory. Also, we will offer you last minute deals and bonus offers not available to the general public. Sign up here — we promise not to fill your Inbox with jumping cholla, we won't share your email address with any varmints, and you can unsubscribe with one click, at any time!
* Anyone subscribing before November 1, 2012 will receive a $10 Restaurant.com gift certificate. Certificate will be emailed in late 2012.
If You Had Fun,  Arizona Spring Training Condo Vacation Rentals Would Like To Hear From You
Arizona Spring Training Condo Vacation Rentals has access to thousands of wonderful condo vacation rentals at hundreds of great resorts, and it's our goal for you to be a happy (and repeat) customer.
If you had a good trip with us, would you be willing to tell us about it? Send us a short (100 words or less) testimonial. If we use it on our website, we'll thank you for your submission by sending you a 3-month ($75 value) Dinner of the Month Club membership.
Browse and Trade Real Estate FOR FREE at GoSwap.org
Permanently exchange properties around the world with no commissions, and no or low fees! Swap homes, land, condominiums, townhouses, multifamily income property, vacant land and lots, timeshares, businesses, cars, RVs, boats — you name it! GoSwap.org offers free basic listings, and low-priced standard, enhanced and featured listings. GoSwap.org guarantees that you will be impressed with your results.
Have a home or condo and you are ready to trade now? Visit GoSwap.org, and see our two listings, this one for our southern Arizona ranch, and this one for our $4 million portfolio of Arizona vacant and improved building lots and other real estate.
Filichia Insurance Agency Sucks
Need a bad insurance agent? Don't have enough problems in your life? Then, consider Filichia Insurance Agency, where their policy is Screw 'Em, Then Sue 'Em. We complained about them; they filed a lawsuit against us. Review our complaints with Filichia Insurance Agency of Titusville, Florida at http://www.filichiainsuranceagencysucks.com.