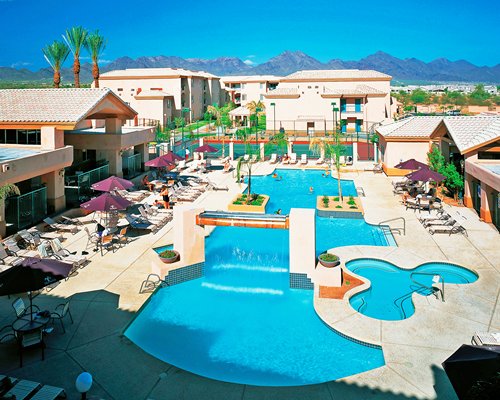 Scottsdale Villa Mirage Resort Condos Offered
The studio unit sleeps 4 people in about 350 square feet, and features one queen size bed and a queen sofa sleeper. All units have a patio or balcony, dining area and VCR/cable TV. There is a kitchenette with convection microwave, coffee maker, and mini fridge.
The one-bedroom unit sleeps 4 people in about 700 square feet, and features a master bedroom with king bed, cable TV, patio or balcony, and bathroom with jetted whirlpool tub. The living room features a queen sofa sleeper, gas fireplace, a second patio or balcony and VCR/cable TV. There is a full kitchen and separate dining area. For convenience, each 1BR has a washer and dryer in the unit.
Two bedroom condos measure about 1000 square feet, and sleep 6 to 8 people (regular 2BRs sleep 6 and lockoff 2BRs sleep 8).  If the condo is stated to be a "lockoff",  the studio and 1BR combine into a 2BR that sleeps 8 people, which can be used as one condo (lockoff door opened) or 2 separate condos (lockoff door closed and locked).
Condo Vacation Rental Availability at Scottsdale Villa Mirage Resort
WE NO LONGER OWN AT THIS RESORT.  PLEASE RENT A WORLDMARK PHOENIX SOUTH MOUNTAIN PRESERVE WEEK INSTEAD.
Click here to check availability and book your condo vacation rental.
The prices shown are the TOTAL prices. We impose NO additional charges (such as sales or lodging taxes, cleaning fees, deposits, booking fees, etc.). The price you see is the price you pay!
We have made renting a week fast, easy, and most importantly, safe! You won't be reading the numbers off your credit card to some stranger on the phone (who knows where those might end up?).
Instead, your payment is handled discretely and securely by PayPal, which is an eBay company. If you are already a PayPal member, you are familiar with the benefits of using PayPal to buy on the Internet. If you don't have a PayPal account, that's alright, you don't need one! PayPal's secure system allows you to use any major credit card to make your payment. There is no cost to you for using PayPal, and by using a credit card, your purchase is protected and your peace of mind assured.
So, go ahead, click here and get your week!
Scottsdale Villa Mirage Resort Overview
Scottsdale Villa Mirage Resort, only 10 miles from downtown Scottsdale, provides the perfect setting for recreation and nightlife. Scottsdale is known for its spectacular views of McDowell Mountains, restaurants, and Western ambience.  Scottsdale Villa Mirage Resort is just minutes from shopping, arts-and-crafts shops, and championship golf courses. The resort reflects the southwestern architecture and features an exercise room, outdoor pool, and tennis courts. Area attractions include desert Jeep tours, the Phoenix Zoo, Spring training baseball camps, and day-trips to the Grand Canyon and Sedona.
Champagne breakfasts and hot-air balloon rides are just the beginning of a truly memorable vacation at Scottsdale Villa Mirage Resort. An oasis located in the middle of the desert, the landscape surrounding you is painted in unimaginable colors by the rising and setting sun.Nearby are desert jeep tours, horseback riding, golf, nightlife, shopping, and state and national parks.
Relax and rejuvenate at Scottsdale Villa Mirage Resort and enjoy 300 days of sunshine. Your quintessential year-round getaway, the entire family will enjoy the comfort of their surroundings. Plan your escape to this Sonoran Desert paradise where Jeep tours and Grand Canyon day trips are readily available, or take in a major league baseball game at a number of nearby ballparks. Whether it's sports and fitness or jazz and blues you're after, you'll find it all when you stay at Scottsdale Villa Mirage.
Good base location for fans of Arizona Spring Training. Go here for information on teams, stadiums, schedules, etc.   The teams and stadiums are:
Chicago Cubs — Mesa — HoHoKam Park
Los Angeles Angels of Anaheim — Tempe Diablo Stadium
Milwaukee Brewers — Phoenix — Maryvale Baseball Park
Oakland Athletics — Phoenix Municipal Stadium
San Franciso Giants — Scottsdale Stadium
Arizona Diamondbacks — Scottsdale — Salt River Fields at Talking Stick
Colorado Rockies — Scottsdale — Salt River Fields at Talking Stick
Chicago White Sox — Glendale — Camelback Ranch
Los Angeles Dodgers — Glendale — Camelback Ranch
San Diego Padres — Peoria Sports Complex Stadium
Seattle Mariners — Peoria Sports Complex Stadium
Cincinnati Reds — Goodyear Ballpark
Cleveland Indians — Goodyear Ballpark
Kansas City Royals — Surprise Stadium
Texas Rangers — Surprise Stadium
Other Fun Stuff to do around the resort:
Housed in a building resembling a large mountain peak, this Phoenix museum specializes in hands-on fun with more than 300 interactive exhibits.
This expansive desert garden spans 50 acres and features 139 rare and endangered plant species from around the world.
Frank Lloyd Wright's Taliesin West
Built in 1937, Taliesin West served as the architect's home and studio. Today it is a working facility and the international headquarters for the Frank Lloyd Wright Foundation.
Housing more than 35,000 artifacts, the Heard Museum focuses on the traditional and contemporary art and culture of the Southwest Native Americans.
Located in metro Phoenix, this zoo is home to more than 1,200 animals.
This 1800s village features 30 historical buildings and live reenactments of the pioneer period.
Scottsdale Museum of Contemporary Art
Founded in 1999, the Scottsdale Museum of Contemporary Art is dedicated to showing the art and architecture of the modern world.
We are the center for many sports teams – including the Arizona Diamondbacks Baseball Phoenix Coyotes NHL Hockey Phoenix Suns NBA Basketball Spring Training Baseball and the Cactus League.
You can also Book a tee time if you are into golf, and who wouldn't love to check out the Grand Canyon?
One of Arizona's largest lakes, Lake Pleasant offers world class bass fishing and many tournaments. You can water ski, jet ski, or leisurely cruise the waters at the lake.
Contact Information
If you have any questions or need any help regarding anything on our website, please do not hesitate to contact us. Our email address is [email protected], and our telephone number is (520) 761-1412.